After spending many hours working on an outfit...I feel like I should name it!
"Wild Child"
came to my mind after creating this outfit! I used a technique from a pattern by Brassy Apple, then I embellished a tshirt to go with the jeans...and then, I couldn't stop there.....I had to make a matching head band!!!
I'm linking this outfit to a really cute site:
Night Owl Crafting,
I find the cutest inspiration here!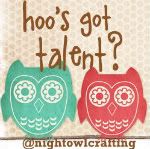 I think this one will go into my
JustUsGirlz etsy shop
.
Thanks for visiting tonight!!! I'm posting this early for Thursday because I just know my kids are gonna have lots to do. And when they have lots to do, I have lots to do!!!
Have a Blessed Wednesday night and an even better Thursday!