I just found this blog, and basically fell in love. I've been browsing and want to share this giveaway with you.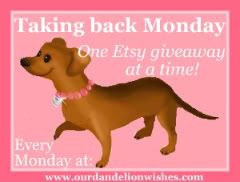 You an win a $35 gift certificate by visiting
Dandelion Wishes: Taking Back Monday Giveaway
Imagine winning a gift certicate to this lovely Etsy store! Such pretty eye candy!!!
Have a wonderful Thursday evening!!!